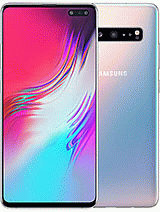 With Samsung being one of the major flagships in the smartphones industry, it should not come as shocking everyone is just waiting on their new release, keeping high expectation levels for all of the new features it might offer, even if it is only an improved version of an already existing cellphone. Luckily, the Samsung Galaxy S10 5G fulfilled everyone's expectations, delivering a compelling device that has quickly gained acceptance from the consumers.
The Samsung Galaxy S10 5G is the first phone of the Korean brand to offer 5G connectivity, dabbling into this new technology on a high note. However, there is a lot more to enjoy from this new model than blistering data speeds. A 6.7-inch display, full of vivid colors and a truly astonishing sharpness, helps us enjoy of that size to its fullest, whether it's through movies, internet videos, or games. To complement this screen a rear camera has been added to the mix, making it four cameras in total. This lens offers a time-of-flight depth sensor that allows the cellphone to calculate depths in a more effective way than conventional camera systems. This accounts for better portraits taken in ample landscapes. The device also has a time-of-flight sensor in the front, which improves the quality of selfies. As it is to be expected, 5G connection blends perfectly with all of the other captivating features of this new Samsung Galaxy, allowing us to enjoy of them with smoothness.
Regarding its design, the Samsung Galaxy S10 5G weighs about a third of an ounce less than its direct competitors that have around the same size and thickness. This makes it a lot easier to handle as well as extremely comfortable, smoothing the user experience in a significant measure. It also comes in two colors: iridescent crown silver and majestic black, with 256GB or 512GB onboard storage versions. The crown silver color shines in different tonalities, looking absolutely captivating in the sunlight. This shimmering gives it a unique touch that definitely ads more personality to the design, appealing to the eyes of those who just need a phone that looks cool.
A very immersive screen, beautiful colors on the inside and the outside, and the best camera invented so far in a Samsung phone make of the Samsung Galaxy S10 5G an excellent choice for those who want to enjoy the capabilities of the S10 to its fullest.